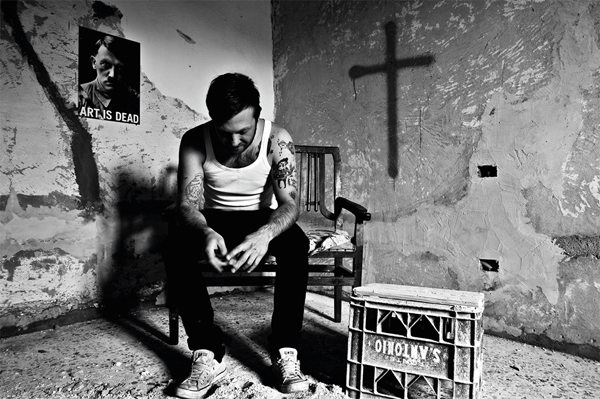 Born in 1981, Michele Guidarini is considered a young Italian talent of international stature. Eclectic artist with great expressive strength, Guidarini draws inspiration from a territory rich in suggestions, between the Baroque mysticism and the typical imagery of punk music. He studied commercial art, then he got a degree at the School of Fine Arts of Florence. It was the study of painting that made him realize that the refined use of brush was not for him. The technique he uses nowadays is a a mix-media of pens, nibs, markers on paper and different recycled materials, sprays and collages, throughout tattoos on pork rind. Inspired ever since by artists like Bacon, Goya and Basquiat, Michele Guidarini started to get passionate in Low Brow Art, attracted by pop and dark esthetic for its visual impact. Rolling Stone, Tattoo Life and ArtGallery Milano present him as one of those emerging talents of greatest value in Italy. This young artist plays with forms and icons, reveals in his works a kind of irony which often clashes between love and death, sadness and euphoria, color and black and white, drama and comedy. He plays with religious and political symbols which marked our history and which influenced the present with the idea that "life is beautiful" in all the varieties of human points of view.
In Italy he exhibits in Naples, Lecce, Florence, MIlan, Rome, Perugia, Salerno, Carrara, Grosseto and abroad in Los Angeles, Barcelona, Paris, Hong Kong, Vancouver and Berlin. Vanity Fair, Inside Art, La Repubblica, L'espresso, ArtGallery Milano, Rooms Magazine, Pavement Zine, Doodlers Anonymous, Makeartmehappy, Bisk8 Visual, Organiconcrete, Special Café, Ziguline, Collater.al, Frizzi Frizzi, Enquire Mag, Wait Mag, Marte Magazine, GetInspiredMagazine and many more talked about him.
At the moment he collaborates with Superology, a clothing brand wich he made a set-up himself for. The gal- leries he works for are Rue de Beauce (Paris), Artevistas Gallery (Barcelona), Toy Art Gallery (Los Angeles), Centro de Arte Mutuo (Barcelona), Misch Masch Gallery (Hong Kong) and White Noise Gallery (Rome).