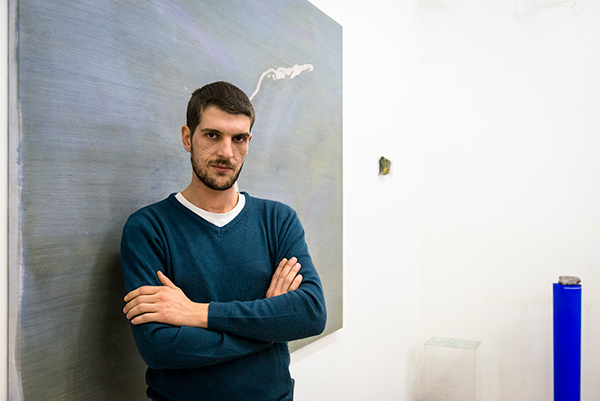 Luca Grechi was born in 1985 in Grosseto, lives and works in Rome.
From 2004 to 2008 he traveled between Central America, South America and France. It settled then in Rome where in 2010 he obtained a degree in painting at the Academy of Fine Arts. He works with the artist and professor Enzo Orti, creator of a project of artistic interventions on the Italian territory entitled Dia Logos, so it is published a catalog in 2012.
As Isabella Vitale writes, his artistic articulates "between method and imagination where it prevails the necessity of doing, as an act of creation-evolution. Everything is defined, but nothing is definitive, as the elements that are often returned in his works: the man, the plants, the solid ".
Among the most recent solo exhibitions: Un sasso sul mare, ( Chiesa dei Bigi, Grosseto, 2015, Sinkhole (Galleria Artothèque de Rome, Roma, 2013); Insiede Out (Cassero Senese, Grosseto, 2013); Add and Remove (Galleria Art.Lab Arte Contemporanea, Grosseto, 2012). Tra le mostre collettive più recenti: The Grass Grows,( Basel, 2014), Ginkgo,( Roma 2014), Petit Bijoux,( Babylon Gallery, Roma, 2013-2014); Censured (Visiva Città dell'immagine, Roma, 2013);L'acqua (finalista Premio Basi, Cassero Senese, Grosseto, 2012).