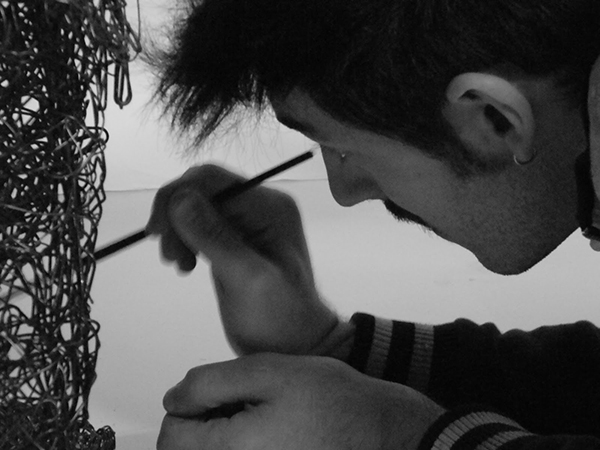 The work of Antonio Barbieri (born in Rho, 1985) is characterized by a fusion of technology and
artistic techniques related to tradition.
Barbieri's poetics stands at the crossroads between figuration and abstraction, seeking solutions and new ones approaches to timeless formal problems.
Moving between different fields, the artist enriches his research by using an opening
always different shape, creating an heterogenous production but with strong recognizable elements.
The subjects that derive from this range from the reinterpretation of the human figure, investigated in depth the relationships and connections between man and society, to the taxonomic study of the vegetable kingdom, reworked thanks to three-dimensional modeling.
The continuous experimentation, leads him to a massive use of the technology that acts as a humus to conception of the works, through the digitization and reworking of natural forms.
The latest production of works, for example, focuses on the invisible part of nature.
An interdisciplinary study that includes molecular systems, micropaleontology and theory of
geoni and whose goal is to mix formal archetypes and create new approaches to
sculpture.
The main projects include:
The Architectura Eloquentia, a cura di Giacomo Guidi, Contemporary Cluster, Roma.
La natura delle forme, a cura di Davide Sarchioni, Vetrya Corporate Campus, Orvieto.
Tecnica mista su carta, a cura di Davide Sarchioni, galleria Il Frantoio, Capalbio.
Tensione mimetica, a cura di Davide Sarchioni, Palazzo Petrangeli Papini, Bagnoregio (VT).
Forever never comes, a cura di Lapo Simeoni, area archeologica di Roselle, Grosseto.