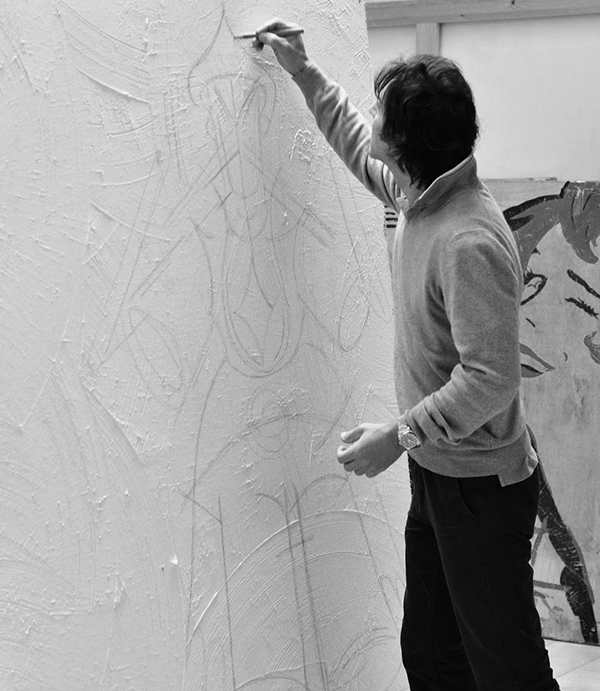 Paolo De Cuarto was born in the south of southern Italy: Catanzaro.
Well, this is the biographical track we deem essential for a proper understanding of his artistic life.
Other than that, the life of an artist is shaped according to his inspiration; yet, there is always a point of origin, any day of its existence, which on paper become "biography", from which everything begins.
For the rest, the life of an artist is outlined accordingly to his inspiration; but there is always a point of origin, a seemingly unremarkable day of his existence – which translates into the pages of a "biography" – from which everything else originates.
Paolo is a child of Calabria, apparently an ordinary one, skinny and vibrant as many; nevertheless he is a distinctive child: he likes to observe and, especially, loves to paint. In his blood flows a bit of Mimmo Rotella, his famous uncle; in his eyes, he carries photographs of a place where time does not go by, but rather twists quietly around itself, between expectations of a future that never takes shape, and the unobtrusive weight of a past in which everyone basks pleasantly.
From this stillness, where an old Cinzano billboard has outlived the course of history and left a mark in his memory, Paolo molds his unique artistic way.
In his suitcase, he packs the images and stock-still atmosphere of Catanzaro, along with the memories and warmth of a "typical South Italian family", and brings it to Milan, where he arrives to eke out a living, as many people try to do.
In Milan, time is the antithesis of the dimension previously known to Paolo; life rushes forward. Here everything is projected into the future, or at least geared for the future, and time goes by hastily, leaving people's lives behind; all is aligned to a type of modernity that forgets soon, becomes infatuated with everything, and yet hardly ever loves anything.
And it is at that exact moment that the outdated image of the Cinzano billboard stands out like a mountain in the eyes of Paolo de Cuarto, who now often hangs out with the artists crowd, met thanks to his illustrious uncle; that is precisely when Paolo decides to pay his tribute to all the beauty consumed quickly and then sacrificed on the altar of modernity.
His memories go back to Carosello, an Italian commercial TV show broadcast from 1957 to 1977, which used to gather the whole family in front of the TV set right before bedtime; his memories go back to the ads that promised a more prosperous world, back in the 50's and 60's; he realizes that there is a better way of keeping a record of our transformations, namely to produce a new and resilient form of beauty, protected by the canvases, fixed in the temporal frame of art, which never expires.